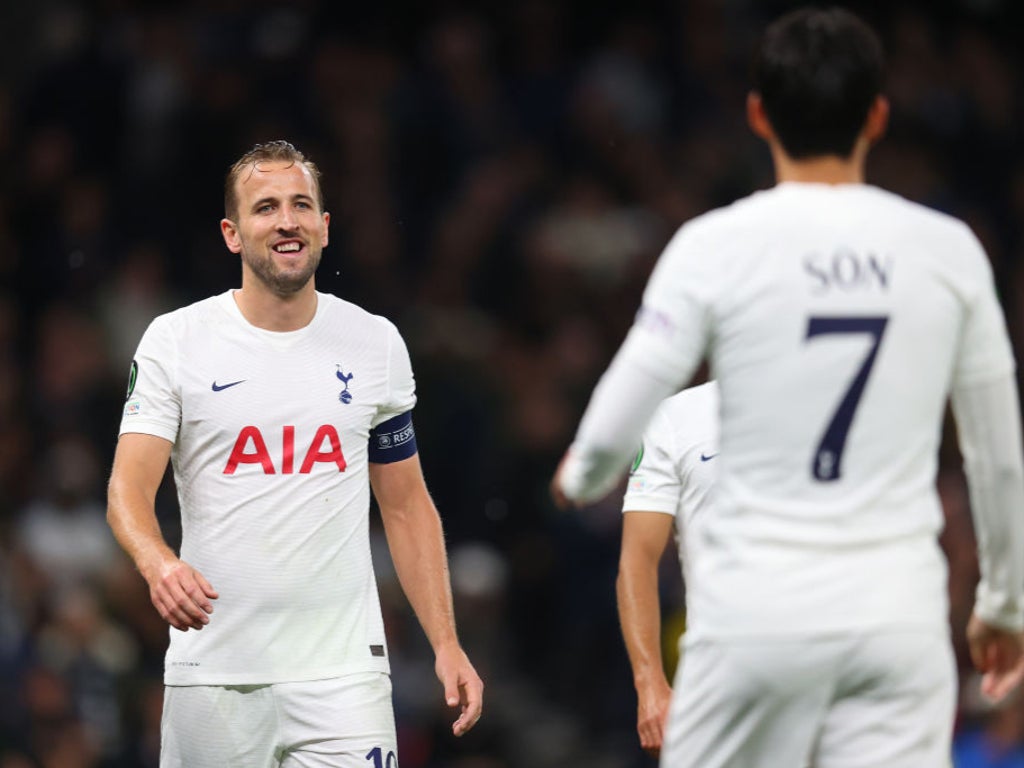 Tottenham picked up their first ever Europa Conference League victory as they swatted aside Slovenian champions NS Mura 5-1 on Thursday evening.
A penalty from Dele Alli and a lovely finish from Giovani Lo Celso handed Nuno Espirito Santo's side a comfortably first half lead at the Tottenham Hotspur Stadium.
Ziga Kous pulled one back for the visitors with a stunning volley from the edge of the area, but substitute Harry Kane made sure of the points with a 20-minute hat-trick.
The performance will not erase memories of three consecutive Premier League defeats, including a one-sided beatdown from Arsenal last weekend. But it was a professional job from Spurs as they head into their game against Aston Villa on Sunday with a modicum of confidence.
Here are five things we learned from the game.
Reduce ticket prices to give Europa Conference League some credibility
There was no atmosphere inside the Tottenham Hotspur Stadium this evening. Of course, it is a Europa Conference League game, a major step down from the European nights Spurs enjoyed in the Champions League just a couple of years ago. But that doesn't take away from the fact that thousands of fans want to experience the still relatively new stadium.
There's really no excuse to have such low attendances, especially when you consider just five days ago the spectacle that was put on for Anthony Joshua's defeat to Oleksandr Usyk at the very same venue. Tonight felt like a pre-season friendly for what was, however you sugar-coat it, European football.
You could see the intensity went out of the Spurs players at the start of the second half and you have to wonder whether part of that was due to the subdued atmosphere engulfing the ground. Adult ticket prices were £25 for this evening. Why not reduce them to £10 and avoid the thousands of empty seats?
Spurs enjoy confidence-boosting win after horrible fortnight
Tottenham came into this one having suffered three successive Premier League defeats, with a scrappy 2-2 draw against Rennes and penalty shootout win over Wolves sandwiched among those woeful losses. Tonight was a much-needed confidence boost after a dreadful period.
Irrespective of the opposition, there was a flow and purpose to Nuno's side in the first 45 minutes that we have not seen since the last international break. Respective of the opposition, it is the Slovenian champions. Aston Villa will offer a much sterner test on Sunday.
Alli and Lo Celso looked extremely keen to impress, while young striker Dane Scarlett will also have been appreciative of the chance to lead the front line. Cristian Romero should also begin to start games now given Joe Rodon, Eric Dier and Davinson Sanchez have all showed very basic frailties in recent matches.
Alli relishes opportunity to be main man
Alli has been one of the most talked about Tottenham players during their up and down start to the campaign. He has started all six of Spurs' Premier League games so far as Nuno opted to give him a second chance to prove himself.
But he was hauled off at half-time after a torrid display in their 3-1 defeat to Arsenal last Sunday, an action which left you pondering whether or not his manager had run out of patience – after all he is yet to repay the faith Nuno has put in him.
Alli was one of very few Spurs first teamers to start this evening – a move that could be seen by some as a punishment. But if tonight was an opportunity to prove he still possesses the supreme talent he showed as a youngster, then he took it with both hands. The 25-year-old rolled back the years as a creative number 10, frequently linking with Scarlett in the same manner he did with Kane during the height of the Mauricio Pochettino era. He looked a cut above as the focal point of the attack.
Alli could well start on Sunday as he was taken off after 60 minutes. He now needs to figure out how he can slot in alongside Kane, Son Heung-min and Lucas Moura – players who have shown a great deal more in recent seasons.
Skipp an accomplished midfielder who should never have been dropped
Oliver Skipp started Tottenham's first four Premier League games of the season. They won three of them and the only one they lost came when they lost their defensive organisation after Japhet Tanganga was shown a red card against Crystal Palace.
Bizarrely, Nuno then decided to drop the 21-year-old for the Chelsea clash, which they promptly lost 3-0. He was then left out again for the North London derby before coming on at half-time to give Spurs the balance in midfield they had been crying out for.
Alongside Pierre-Emile Hojbjerg, Skipp looked calm, assured and intelligent in his play. And tonight he proved it is not just because he was playing with the snappy Dane as he stood out as Tottenham's anchor in the middle of the park, outshining Harry Winks. A midfield three of Hojbjerg, Skipp and Tanguy Ndombele has to be the way forward for Nuno.
Nuno hands Kane, Son and Lucas 30 minutes to refind form
Nuno brought Kane, Son and Lucas on with an hour of the game played as the 2-1 scoreline threatened to become a little more uncomfortable than the script suggested.
It was the right decision from the Spurs boss as the trio all played their part in the three second half goals. Lucas set up Kane for his first and then Son laid on the England captain for another inside the final 10 minutes. Kane then completed his hat-trick with two minutes of the 90 remaining.
It is exactly what Tottenham's attacking stars needed. It is exactly what Kane needed. Now they need to do it in the Premier League.