Kenya Rugby has confirmed the pools for the second round of the 2022 National Sevens Circuit at the RFUEA Ground on 28-29 May 2022.
After their Cup win at last weekend's season opening Kabeberi 7s at the same, series champions KCB are top seeds and head Pool A at the Christie 7s while runners up Strathmore Leos, Menengai Oilers and Homeboyz headline the remaining pools.
KCB, who are also the defending Christie 7s champions will duel with Topfry Nakuru, hosts Kenya Harlequin and JumiaPay Pirates in Pool A.
Strathmore Leos will play Daystar Falcons, Blak Blad and Impala in Pool B. Menengai Oilers headline Pool C as the third placed team at Kabeberi and face Masinde Muliro, Kabras Sugar and Nondescripts.
Homeboyz, meanwhile, while play Mwamba, Western Bulls and Catholic Monks in Pool D.
Christie Sevens Div 1 Pools
Pool A: KCB, Topfry Nakuru, Kenya Harlequin, JumiaPay Pirates
Pool B: Strathmore Leos, Daystar Falcons, Blak Blad, Impala
Pool C: Menengai Oilers, Masinde Muliro, Kabras Sugar, Nondescripts
Pool D: Homeboyz, Mwamba, Western Bulls, Catholic Monks
Christie Sevens Day 1 Order Of Play
900am  Topfry Nakuru v Kenya Harlequin
920am  KCB v JumiaPay Pirates
940am  Daystar Falcons v Blak Blad
1000am Strathmore Leos v Impala
1020am Masinde Muliro v Kabras Sugar
1040am Menengai Oilers v Nondescripts
1100am Mwamba v Western Bulls
1120am Homeboyz v Catholic Monks
1150am Topfry Nakuru v JumiaPay Pirates
1210pm KCB v Kenya Harlequin
1230pm Daystar Falcons v Impala
1250pm Strathmore Leos v Blak Blad
110pm  Masinde Muliro v Nondescripts
130pm  Menengai Oilers v Kabras Sugar
150pm  Mwamba v Catholic Monks
210pm  Homeboyz v Western Bulls
320pm Kenya Harlequin v JumiaPay Pirates
340pm KCB v Topfry Nakuru
400pm Blak Blad v Impala
420pm Strathmore Leos v Daystar Falcons
440pm Kabras Sugar v Nondescripts
500pm Menengai Oilers v Masinde Muliro
520pm Western Bulls v Catholic Monks
540pm Homeboyz v Mwamba
The division two competition has attracted a total of 24 teams.
Christie Sevens Div 2 Pools
Pool A: Mean Machine, Molo, Ngong, Kabarak
Pool B: Northern Suburbs, Embu, Busia Borderrucks, Kisumu
Pool C: Makueni, KCA, JKUAT, Stingers
Pool D: AP Warriors, Dagoretti Bulldogs, TUK Mustangs, Comras
Pool E: Shamas, MKU Nairobi, Stormers, Kiambu
Pool F: Zetech Oaks, USIU Martials, Masaku, Kenya Prisons
Download the complete order of play here https://www.kru.co.ke/download/2022-christie-7s-draw-and-order-of-play/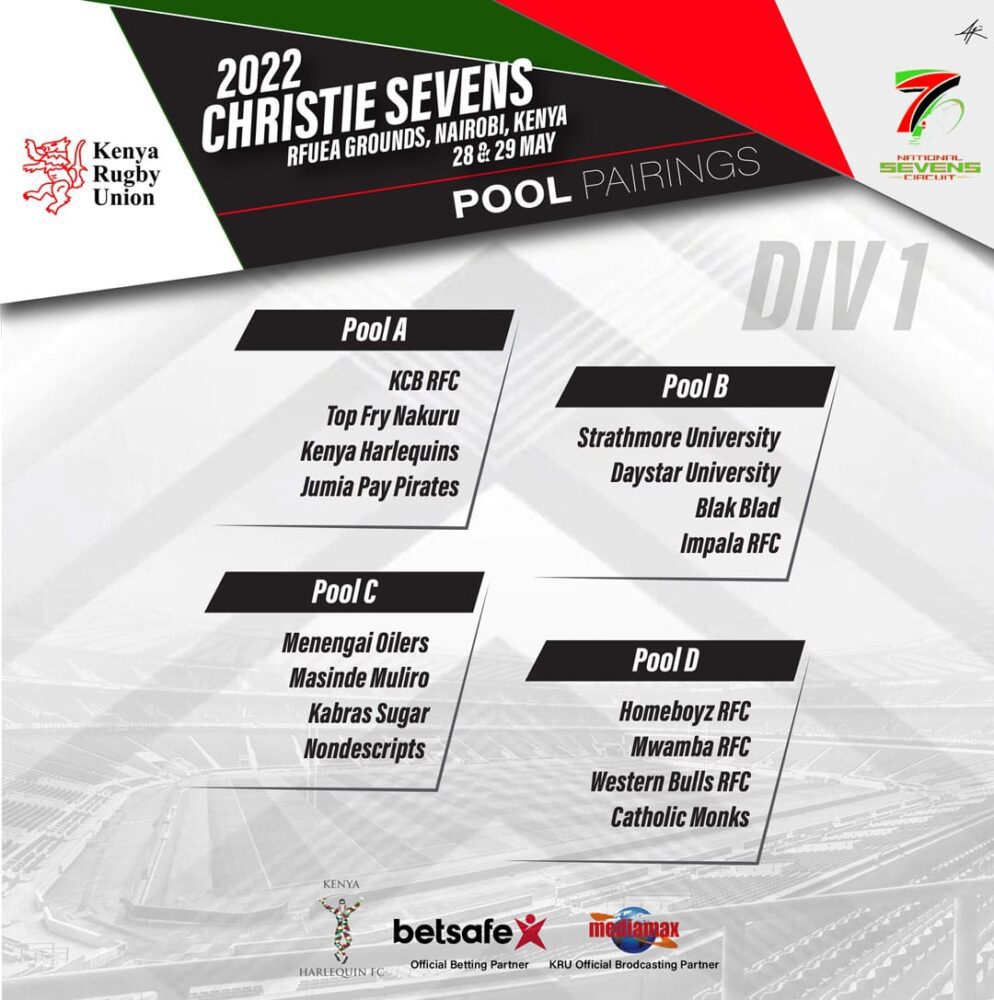 The Christie 7s is named in honour of Alex 'Sandy' Milne Christie, a President of Kenya Harlequins', veteran rugby player, referee for Dar-es-Salaam, Tanzania, Kampala, Uganda, Mombasa in Kenya who also served as President of the RFUEA and Vice-President of Wasps RFC in England.
While information on the 1962 and 1963 remains scanty, a group of rugby aficionados have painstakingly cobbled together the list of winners from 1964 to date.
Christie 7s Previous Winners
1964 Kenya Police and Eldoret RFC
1965 Eldoret RFC
1966 Impala
1967 Nondescripts
1968 Impala
1969 Nondescripts
1970 Impala
1971 Impala
1972 Impala
1973 Nondescripts
1974 Nondescripts
1975 Nondescripts
1976 Nondescripts
1977 Mean Machine
1978 Mwamba
1979 Mwamba
1980 Mean Machine
1981 Kenya Harlequin
1982 Kenya Harlequin
1983 Mwamba
1984 Mean Machine
1985 Mwamba
1986 Kenya Harlequin
1987 Barclays
1988 Mean Machine
1989 Barclays
1990 Mean Machine
1991 Barclays
1992 KCB
1993 Mean Machine
1994 Barclays
1995 Mean Machine
1996 Mean Machine
1997 Kenya Harlequin
1998 Impala
1999 Impala
2000 Nakuru
2001 Ulinzi
2002 Ulinzi
2003 Kenya Harlequin
2004 KCB
2005 Mwamba
2006 Mwamba
2007 Kenya Harlequin
2008 KCB
2009 Kenya Harlequin
2010 Kenya Harlequin
2011 KCB
2012 Kenya Harlequin
2013 KCB
2014 Mwamba
2015 Kenya Harlequin
2016 Kabras Sugar
2017 Kabras Sugar
2018 Homeboyz
2019 KCB
2020 Not Played due to Covid 19
2021 Not Played due to Covid 19
Related