Nasinu's chances of remaining in the Vodafone Premier League is now hanging by a thread after losing to Ba 2-nil at Ratu Cakobau Park in Nausori.
The Men in Black edged the Giant Killers to increase their points on the standings by 23.
Nasinu put on a strong first-half performance to hold Ba to a nil-all draw in the first half.
Article continues after advertisement
Ba was the better half of the two, storming the second half and applying pressure on the Nasinu goal line.
Ba was rewarded with a penalty kick to Savenaca Nakalevu who netted the first goal of the match 8 minutes into the second half.
Ba continued their scoring momentum giving a chance to Samuela Drudru to score their second goal in the third quarter giving them a 2-nil lead over Nasinu.
Ba team technical adviser Imdad Ali says the team is slowly finding their rhythm.
"The performance I think it's coming up. The boys are doing well, they're combining together now and we are looking forward to the next game."
Nasinu striker Isikeli Ratucava had several chances at goal but Ba maintained their strong defense until the final whistle.
Coach Tagi Vonolagi says it's not over yet for the Giant-Killers.
"We had to defend in the second half and at the end it cost us the game, one penalty and a goal by Ba. It not over yet."
Ba moves up to third place with 23 points while Nasinu remains in the last position with eight points.
| TEAM | P | W | D | L | GF | GA | GD | POINTS |
| --- | --- | --- | --- | --- | --- | --- | --- | --- |
| SUVA | 13 | 7 | 5 | 1 | 24 | 12 | +12 | 26 |
| REWA | 13 | 7 | 3 | 3 | 16 | 12 | +4 | 24 |
| BA | 13 | 7 | 2 | 4 | 21 | 17 | +4 | 23 |
| NADI | 13 | 7 | 0 | 6 | 25 | 17 | +8 | 21 |
| LABASA | 13 | 6 | 1 | 6 | 15 | 14 | +1 | 19 |
| LAUTOKA | 13 | 4 | 4 | 5 | 22 | 13 | +9 | 16 |
| NAVUA | 13 | 3 | 1 | 9 | 16 | 32 | -16 | 10 |
| NASINU | 13 | 2 | 2 | 9 | 13 | 35 | -22 | 8 |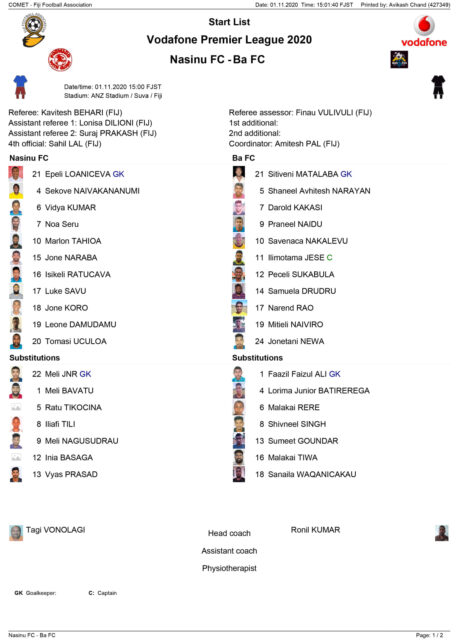 | DATE & DAY | TIME | HOST | SCORE | VISITOR | VENUE |
| --- | --- | --- | --- | --- | --- |
| Round 13 | | | | | |
| 31 Oct – Saturday | 2:00PM | Lautoka | 3 – 1 | Navua | Churchill Park |
| 01 Nov – Sunday | 1:00PM | Nasinu | 0 – 2 | Ba | Ratu Cakobau Park |
| 01 Nov – Sunday | 3:00PM | Rewa | 0 – 0 | Suva | Ratu Cakobau Park |
| 01 Nov – Sunday | 3:00PM | Nadi | 0 – 1 | Labasa | Prince Charles Park |
| | | | | | |
| Round 12 | | | | | |
| 24 Oct – Saturday | 1:30PM | Labasa | 2 – 0 | Lautoka | Subrail Park |
| 24 Oct – Saturday | 3:00PM | Ba | 0 – 1 | Nadi | Fiji FA Academy |
| 25 Oct – Sunday | 3:00PM | Suva | 5 – 0 | Nasinu | ANZ Stadium |
| 25 Oct – Sunday | 3:00PM | Navua | 2 – 0 | Rewa | Uprising Ground |
| | | | | | |
| Round 11 | | | | | |
| 19 Sept – Saturday | 3:00PM | Ba | 0 – 0 | Lautoka | Fiji FA Academy |
| 20 Sept – Saturday | 1:00PM | Nasinu | 1 – 3 | Nadi | ANZ Stadium |
| 20 Sept – Saturday | 3:00PM | Suva | 4 – 1 | Navua | ANZ Stadium |
| 20 Sept – Saturday | 3:00PM | Rewa | 1 – 2 | Labasa | Ratu Cakobau Park |
| | | | | | |
| Round 10 | | | | | |
| 12 Sept – Saturday | 4:00PM | Navua | 0 – 3 | Ba | Uprising Ground |
| 13 Sept – Sunday | 1:30PM | Labasa | 2 – 0 | Nasinu | Subrail Park |
| 13 Sept – Sunday | 2:00PM | Suva | 1 – 1 | Lautoka | ANZ Stadium |
| 13 Sept – Sunday | 3:30PM | Rewa | 2 – 1 | Nadi | Ratu Cakobau Park [LIVE on FBC Sports/Commentary on Mirchi FM] |
| | | | | | |
| Round 9 | | | | | |
| 05 Sept – Saturday | 7:00PM | Navua | 2 – 1 | Labasa | Uprising Ground [LIVE on FBC Sports/Commentary on Mirchi FM] |
| 06 Sept – Sunday | 1:00PM | Nadi | 3 – 2 | Lautoka | Prince Charles Park |
| 06 Sept – Sunday | 2:00PM | Rewa | 1 – 0 | Nasinu | Ratu Cakobau Park |
| 06 Sept – Sunday | 3:00PM | Suva | 2 – 1 | Ba | ANZ Stadium |
| | | | | | |
| Round 8 | | | | | |
| 29 Aug – Saturday | 3:00PM | Ba | 1 – 1 | Rewa | Fiji Football Academy Ground, Ba |
| 30 August – Sunday | 1:00PM | Nadi | 5 – 0 | Navua | Prince Charles Park |
| 30 August – Sunday | 2:00PM | Nasinu | 1 – 1 | Lautoka | Ratu Cakobau Park |
| 30 August – Sunday | 3:00PM | Suva | 3 – 1 | Labasa | ANZ Stadium |
| | | | | | |
| Round 7 | | | | | |
| 01 Aug – Saturday | 3:00PM | Ba | 3 – 1 | Suva | Fiji Football Academy Ground, Ba |
| | | | | | |
| Round 6 | | | | | |
| 22 Jul – Wednesday | 6:00PM | Nadi | 5 – 1 | Ba | Prince Charles Park |
| 25 Jul – Saturday | 3:00PM | Ba | 2 – 1 | Labasa | Fiji Football Academy Ground, Ba |
| 26 Jul – Saturday | 1:00PM | Rewa | 1 – 0 | Lautoka | Ratu Cakobau Park |
| 26 Jul – Saturday | 2:00PM | Nadi | 0 – 1 | Suva | Prince Charles Park |
| 26 Jul – Saturday | 3:00PM | Nasinu | 2 – 3 | Navua | Ratu Cakobau Park |
| | | | | | |
| Round 5 | | | | | |
| 19 Jul – Sunday | 3:00PM | Navua | 1 – 2 | Lautoka | Uprising Resort Ground |
| 19 Jul – Sunday | 3:00PM | Suva | 0 – 0 | Rewa | ANZ Stadium |
| 18 Jul – Saturday | 2:00PM | Labasa | 1 – 0 | Nadi | Subrail Park |
| 18 Jul – Saturday | 3:00PM | Ba | 2 – 0 | Nasinu | Fiji Football Academy Ground, Ba |
| 15 Jul – Wednesday | 6:30PM | Lautoka | 1 – 2 | Ba | Churchill Park |
| 11 Jul – Saturday | 3:00PM | Ba | 5 – 3 | Navua | Fiji Football Academy Ground, Ba |
| | | | | | |
| Round 4 | | | | | |
| 8th Mar – Sunday | 3:00PM | Lautoka | 0 – 1 | Suva | Churchill Park |
| 1st Mar – Sunday | 1:30PM | Nasinu | 3 – 3 | Suva | Ratu Cakobau Park |
| 1st Mar – Sunday | 3:00PM | Rewa | 2 – 1 | Navua | Ratu Cakobau Park |
| 1st Mar – Sunday | 3:00PM | Lautoka | 0 – 0 | Labasa | Churchill Park |
| | | | | | |
| Round 3 | | | | | |
| 22nd Feb – Saturday | 1:30PM | Labasa | 1 – 3 | Rewa | Subrail Park |
| 23rd Feb – Sunday | 3:00PM | Nadi | 5 – 0 | Nasinu | Prince Charles Park |
| 16th Feb – Sunday | 3:00PM | Nasinu | 1 – 0 | Labasa | Ratu Cakobau Park |
| 16th Feb – Sunday | 3:00PM | Nadi | 0 – 1 | Rewa | Prince Charles Park |
| | | | | | |
| Round 2 | | | | | |
| 8th Feb – Saturday | 1:30PM | Labasa | 2 – 0 | Navua | Subrail Park |
| 9th Feb – Sunday | 3:00PM | Suva | Postponed | Ba | ANZ Stadium |
| 9th Feb – Sunday | 3:00PM | Nasinu | 3 – 4 | Rewa | Ratu Cakobau Park |
| 9th Feb – Sunday | 3:00PM | Lautoka | 6 – 0 | Nadi | Churchill Park |
| | | | | | |
| Round 1 | | | | | |
| 1st Feb – Saturday | 1:30PM | Labasa | 1 – 2 | Suva | Subrail Park |
| 02nd Feb – Sunday | 3:00PM | Rewa | 0 – 1 | Ba | Ratu Cakobau Park |
| 02nd Feb – Sunday | 3:00PM | Lautoka | 6 – 0 | Nasinu | Churchill Park |
| 02nd Feb – Sunday | 3:00PM | Navua | 1 – 2 | Nadi | Uprising Grounds |