I am deeply saddened to learn of the untimely demise of Ali Al Jabri (aka Ali Papa), a former chairman and current trustee of Nakuru RFC and a great member of the Rugby Family. On behalf of the Kenya Rugby Union and Rugby fraternity as a whole, I wish to extend my sincere and heartfelt condolences to the family, friends and Nakuru RFC family following Ali Papa's demise.
Ali Papa has left an indelible mark in the history of Kenya Rugby as the first chairman of a rugby club outside Nairobi to lead his team to the ultimate prize in domestic competition – the Kenya Cup victory in 2013. He followed this act with the Domestic Double (Kenya Cup and Enterprise Cup) in 2014.  His team also won the National Sevens Circuit in 2015. It was no surprise that Nakuru RFC had a large number of international players for both the Kenya Simbas and Shujaa teams. Despite smashing what was a glass ceiling at the time, Ali remained humble and grounded even as the accolades rolled on. He is credited with bringing on board Menengai Oil Refineries Ltd as Headline Sponsor of Nakuru Rugby, a relationship that has subsisted for more than a decade.
Ali Papa sustained Nakuru's rich legacy as Kenya's rugby nursery, with significant investment in age grade, girls and women's rugby as well as Match Officials Development. Out of that investment, many of the young girls who started the age grade program have grown to become star players representing the Kenya Lionesses with distinction at the Olympics, Commonwealth Games, Africa Cup/Rugby World Qualifiers among other events.
It is also no surprise that Nakuru RFC is home to most of the top Match Officials in the country with special mention to the members of the Rugby Africa International Panel. Through this positive engagement with the community, rugby has had a profound impact on the lives of many people bringing hope, enjoyment and even providing livelihoods.
For the Rugby Family, Nakuru remains one of our favorite rugby towns, hosting the must-attend Great Rift Ten-a-Side and the Prinsloo Sevens. As Chairman, Ali ensured that these events were professionally organized and set a high bar for others to emulate. As a club chairman at the time, I couldn't help but notice how each event was well planned and executed, attracting a variety of commercial partners.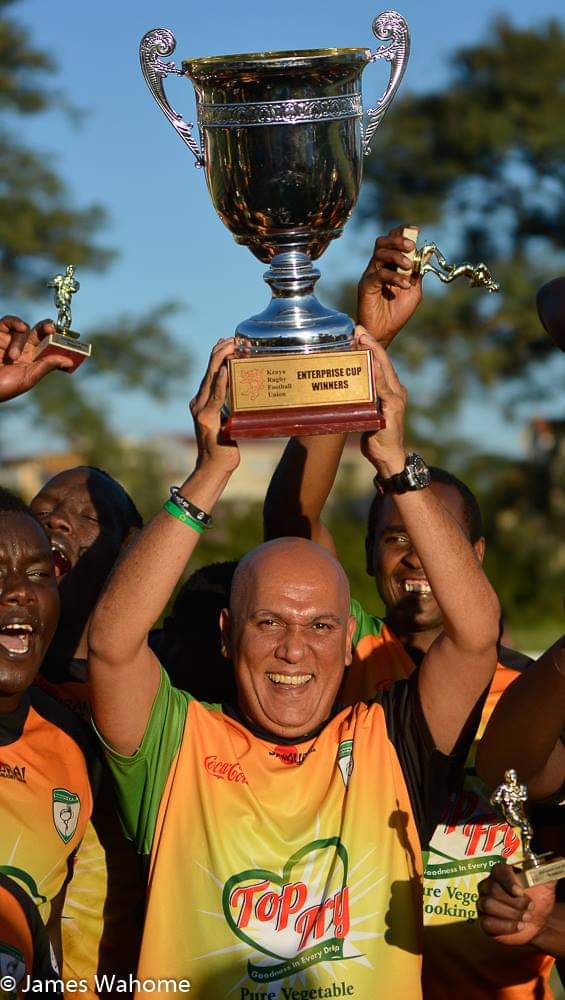 Thanks to the solid foundation that Ali Papa built, the KRU was confident to award Nakuru RFC the hosting rights for the Victoria Cup Test Match against Zimbabwe in 2019 which turned out to be one of the best test matches witnessed in our country. His legacy in event management will live on through these activities.
Like a true rugby man, Papa Ali remained involved in the game despite relinquishing his role as the Club Chairman. As Club Trustee, working with other past Chairmen of Nakuru RFC, they offered mentorship and wise counsel to the Executive Committee tasked with day to day management of the club.
Through his business interests which include water distribution for the Aquamist brand, Ali personally supported the KRU as an Associate Sponsor providing water and other refreshments during the Barthes Trophy and Safari Sevens. We greatly appreciate this gesture of selflessly giving to the game we all love. We are certain we are not the only group whom he supported.
We remain eternally grateful for his role in growing and developing the game in the country, for being a transformative leader in our sport and for being a friend to all of us.
To his family, friends, and the Nakuru rugby fraternity, kindly accept my sincere condolences and those of the Kenya Rugby Union and the larger fraternity. May Ali Papa's soul rest in eternal peace.
Oduor Gangla
Chairman
Kenya Rugby Union
Related