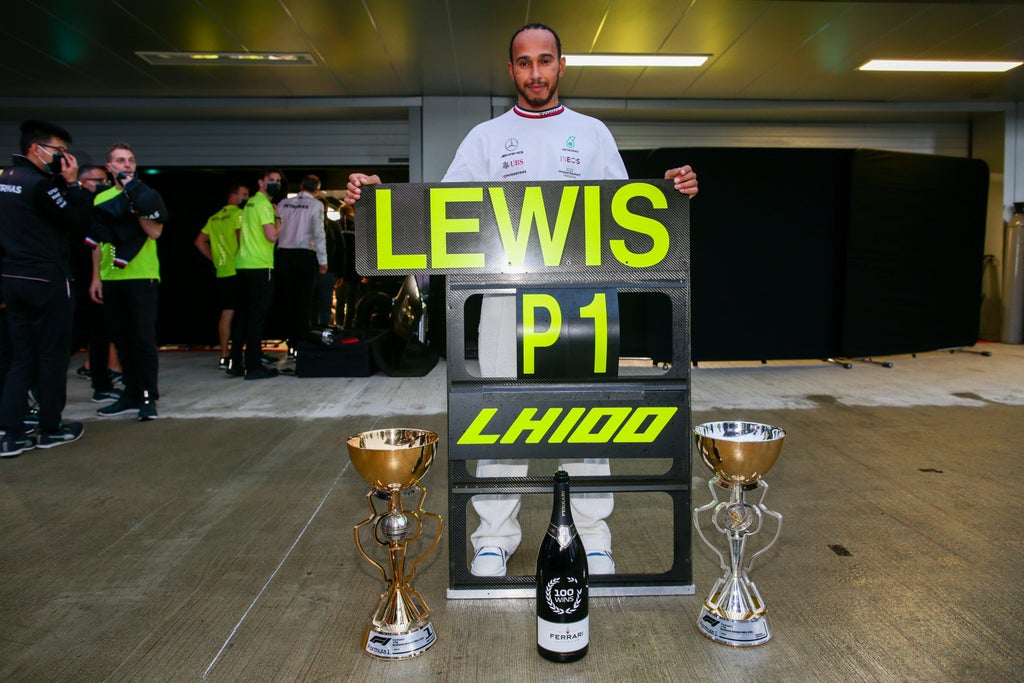 Lewis Hamilton has admitted he "often" thinks about retiring from Formula 1 but insists he still remains as "hungry" to win as he was when he entered the sport.
The 36-year-old celebrated his 100th win at the Russian Grand Prix last weekend to further add to his list of records in Formula 1.
The seven-time world champion is locked in a fierce battle to defend his title this season and is just two points ahead of Max Verstappen with seven races of the season remaining.
Hamilton signed a new two-year contract with Mercedes before the season and is committed to the team until 2023.
When asked if he ever thought about quitting Formula 1 after enjoying so much success in the sport, Hamilton told Sky Italia: "That thought often happens to me. It's like a wave.
"It comes and goes, there have been many occasions in the last four or five years when I didn't know if I still wanted to try, sacrifice myself with training at the expense of personal life.
"There are other things I like to do. So many things I would like to try. But on the other hand I tell myself that I am so lucky to be doing this job.
"In a rather long period of time, the career in the car becomes only a small part, there is a lot of time to retire. It is a question of finding the balance. I
"I tell myself that if I am still hungry and I train like I was a boy, which I am doing, and if I still get great results and I'm still hungry…
"If I find myself slower, lacking strength to train, and unmotivated, then I'll know it's time to stop."
Hamilton will be joined by George Russell at Mercedes next season, which will see a new car and a raft of new regulations introduced to the sport.
The Briton was quick to praise the new generation of young drivers who are coming through, including Russell as well as Lando Norris and Charles Leclerc, but said he was not "scared" of facing them under the new regulations in 2022.
"There are exceptional talents in the new generation. It is something exciting for the sport and for me it is fantastic because I can ask myself: 'How can I handle the challenge of these guys?'
"They are not afraid of anything, I am in great shape, I like to watch them drive, I hope that I will still be able to deserve my place here, to be able to respond to them in the most effective way possible. I am focused on that.
" Looking ahead to next year, the performance of the cars is likely to be closer together. The races will be more intense, so driving skills can carry a lot of weight. And that's why I want to stay in F1, because it will really be an opportunity to show my skills.
" I believe my spirit can help the team make progress, because I know what I need from the car and where performance needs to go. I hope to be important in this regard and to be part of the growth of Russell, who will be next to me.
"He is already very fast but he will surely learn from me because I have been in F1 for the longest time. And I will also be able to learn from him. I have no qualms about learning from someone younger. I have no fear, I just want to win."