The National Sevens Circuit finally returns after a two year hiatus with the season opening George Mwangi Kabeberi Memorial 7s..
This tournament, which is hosted by Mwamba RFC is played in honor of founding member George Mwangi Kabeberi who passed away in 1986.  The significance of the tournament has been expanded to honor club members who have passed away in the years since, including recently Leeroy Okara, Absalom "Bimbo" Mutere, Abedeen Shikoyi, and Jimmy Owino and Victor Wayodi
It will be held at the RFUEA Ground on 21st and 22nd May 2022, and signals the beginning of the quest to be crowned Kenyan club sevens champions.
With the exception of 2020 and 2021 when sporting activities were hampered by the Covid 19 pandemic, this tournament has been played every year since 1988.
Hosts Mwamba and Impala Saracens boast the most wins at Kabeberi, having lifted the title 7 times each while Kenya Harlequin have lifted the cup title at this tournament on 6 occasions.
Defending National Sevens Circuit champions KCB, Nakuru, Homeboyz and the defunct Barclays RFC have won each won 2 titles while Kenya 7s, Ulinzi and Stanchart boast of a title a piece.
The Kenya Rugby Union is expected to release the 2022 Kabeberi 7s draw in the course of the week.
George Mwangi Kabeberi Memorial 7s Previous Winners
2021 Not played
2020 Not played
2019 Mwamba
2018 Homeboyz
2017 Impala Saracens
2016 Impala Saracens
2015 Mwamba
2014 KCB
2013 Homeboyz
2012 Kenya Harlequin
2011 Kenya Harlequin
2010 Strathmore Leos
2009 Mwamba
2008 KCB
2007 Nakuru
2006 Kenya Harlequin
2005 Impala Saracens
2004 Impala Saracens
2003 Ulinzi
2002 Impala Saracens
2001 Kenya Harlequin
2000 Kenya 7s
1999 Impala Saracens
1998 Impala Saracens
1997 Nakuru
1996 Kenya Harlequin
1995 Kenya Harlequin
1994 Stanchart
1993 Barclays
1992 Barclays
1991 Mwamba
1990 Mwamba
1989 Mwamba
1988 Mwamba
Impala 7 titles (1998, 1999, 2002, 2004,2005,2016,2017)
Mwamba 7 titles (1988, 1989, 1990,1991, 2009, 2015,2019)
Kenya Harlequin 6 titles (1995, 1995, 2001, 2006, 2011, 2012)
KCB 2 titles (2008, 2014)
Nakuru 2 titles (1997, 2007)
Homeboyz 2 titles (2013, 2018)
Barclays 2 titles (1992, 1993)
Kenya 7s 1 title (2000)
Ulinzi 1 title (2003)
Stanchart 1 title (1994)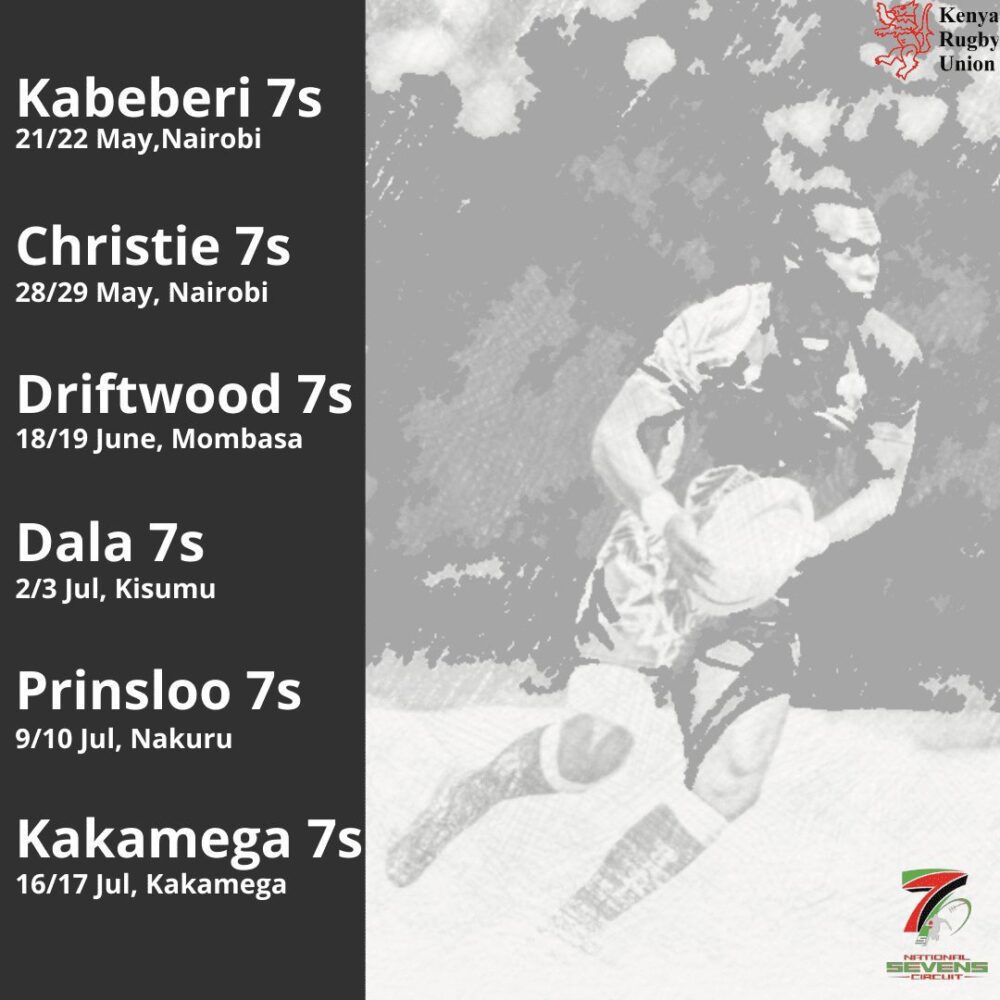 Related