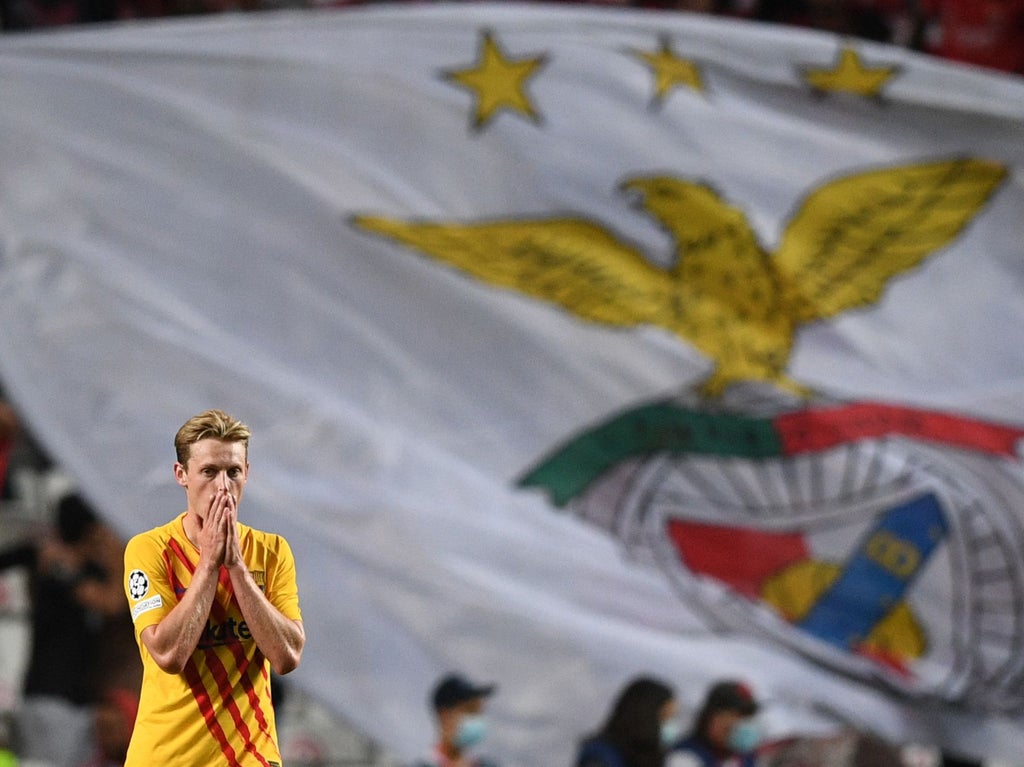 The record stretched back so long, 1961 to be exact, yet having never beaten Barcelona since then, Benfica swaggered into Estadio da Luz knowing they would demolish that statistic and Ronald Koeman's men.
You could feel their confidence fill the night sky ahead of the first whistle and when Darwin Nunez scored in the third minute, the belief swelled.
Barca, all told, were fortunate to only lose 3-0. They were all pass, pass, pass and even Opta's recording of a solitary shot on target was surprising and forgettable.
Sitting at the uppermost tip of the stadium, only roof above us, the view was bleak on Barca.
They were so… average, meek, sterile. Benfica sensed their uncertainty, their fear, their complete loss of invincibility. The home crowd did too, breaking away from their raucous support on a few occasions to twist the knife with cries of 'Messi, Messi, Messi.'
Jorge Jesus' men were aggressive in possession, compact without the ball and so clear in how they were going to turn transitions into Barca's kryptonite.
Benfica had more shots inside the area than the visitors could muster in total. Marc-André ter Stegen was forced into three saves with the woodwork also working better for Barca than Eric Garcia.
Odisseas Vlachodimos had nothing to do, and for entertainment as much as efficiency, was acrobatically hurling himself at clearances.
If the way Benfica played did not underscore just how much they thought of themselves and how little they rated once gargantuan opponents, their words afterwards did a fine job.
"I don't think it was a big test," Rafa Silva said. The scorer of the third goal was asked if there was a special feel to facing heavyweight opponents and he offered that "it was just another game we had to play, that we wanted to win."
The conversation should have been about Benfica and so he turned it back there: "We've shown what we have been and want to continue to be.
"We have to focus on us because we have an excellent team."
Julian Weigl, the Benfica midfielder, summed up Barca's tactical approach with an unintentional stinging line. "Of course they passed the ball very well, they are strong on that," he said without needing to add they are severely deficient in every other respect.
Barcelona had actually surprised Jesus, but not in the way intended. When Benfica's manager was drafting his blueprint for the match, he shifted extra focus on the team's responsibilities out of possession.
Jesus was sure Barca would score at least once and factored that into his equation. He had credence that Benfica would win even if they conceded, but his mind didn't need to stretch that far. Barca didn't stretch them at all.
"We had to be very strong in the defensive process," Jesus said.
"We managed the the moments of the game; Barcelona had more possession as usual, but what was important for us is that the last pass didn't get through. Then we were very strong to break and we scored three goals.
"I knew that to beat Barcelona we had to score more than one goal. I was counting on conceding a goal, but Vlachodimos didn't have a save and had to deal with just except crosses."
In the end, it was easier than Benfica expected. They waited 60 years to get one over Barca and could have hit six past them.
Koeman, meanwhile, was in delusionville. "It's tough to accept this result," he moaned. "I don't think the scoreline corresponds to the match we watched."
Yes, it could have been more flattering to Benfica. "We had really good scoring chances and that's how you change the direction of a match," he added.
"The fact that Benfica put away the large majority of the few chances they actually created then that's the big difference between the two teams."
Just for the record again, Vlachodimos did not make a save. Barca were credited with a ghost shot on target, allowed their opponents 12 total attempts and looked more likely to pass Benfica to sleep than to pierce their defence.
To repeat Rafa's conclusion, it was not a big test.